A Co Cavan man is currently preparing for the British Transplant Games which are taking place next weekend. Ciarán Tiernan from Bailieboro is a member of the Transplant Ireland's soccer team that will be in Coventry from the 28th to the 30th of July next.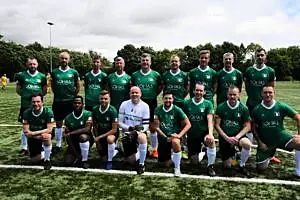 He received a liver transplant in Birmingham over 30 years ago when he was just four-years-old and hasn't looked back. Speaking to Northern Sound, Ciarán highlighted how he joined the soccer team just four months ago because of his love for football. He added that being part of a group where those involved have had a similar experience to him has proved very encouraging, and it also helps to spread the message around the importance of organ donation.
"Organ donation, unless you need it or someone in your family needs it, you don't really think about it. But, I do think it's a very important conversation to have because we need to make people aware that one day it could be needed. We also want anyone who has had a transplant to come along and join our soccer team...the more the merrier," Ciarán said.