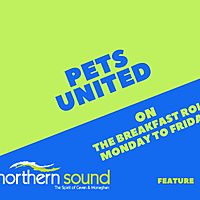 Pets United
Sean McCaffrey loves animals and through his own admission is home to 2 dogs and 3 cats which all get along in harmony.  Since COVID started, it has been noted that there has been an increase in family pet ownership in the Northern Sound region whether it is a dog, cat, goldfish or other family pets.  Due to Level 5 restrictions, there has also been a noticeable increase in bird watching. Pets United is a new feature on air for listeners to share pet stories from their individual habits and their traits together with the joy of their presence that they bring to their owner's life.  Listeners are encouraged to share their photos and/or of various birds that are in their garden and together we can find out more about them.
Latest episodes
NorthernSound Newsletter
Sign up now to keep up to date with the latest news.