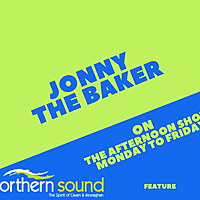 Jonny The Baker
Jonny O'Keeffe, our Afternoon Show presenter, loves trying new things; baking being one of those experiences. Each week Jonny will be sharing listeners recipes, in particular using things you might already have in the house. Jonny and other listeners, individuals or families with kids will try out the recipes and share pictures and comments on their progress, successes and failures.
Latest episodes
NorthernSound Newsletter
Sign up now to keep up to date with the latest news.