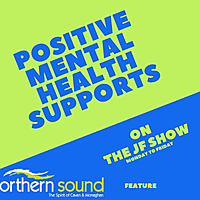 Positive Mental Health Supports
After nearly a year of COVID-19 restrictions, more people than ever are experiencing mental health challenges as they deal with issues not limited to isolation, loneliness, financial strain, fear due to domestic violence, home schooling pressures and increased anxiety. We are engaging with recognized support agencies for example Pieta House / Samaritans, Alone which offers a variety of supports and strategies to assist people suffering for a series of weekly interviews sharing advice and communicate useful resources and strategies to help people during this time.
Latest episodes
NorthernSound Newsletter
Sign up now to keep up to date with the latest news.