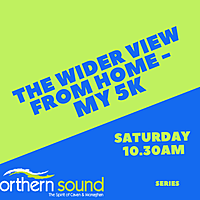 The Wider View from Home - My 5k
Level 5 restrictions have now been in place for the last few months with the advice that we must not travel 5K outside our home; The Wider View from Home – My 5K encourages listeners to get or keep active and discover the simple wonders that can be found within our 5K whilst remaining socially distant; in a number of locations throughout Cavan and Monaghan. With the support of local community groups and heritage officers, each programme looks at the flora and fauna within the area, various landmarks and routes that is available to all and minority groups that have seen their income reduce due to the pandemic highlighting all that is free and at no cost as well as re-enforcing the mental health benefits of being active. The series is broadcast on Saturday at 10.30am.
Latest episodes
NorthernSound Newsletter
Sign up now to keep up to date with the latest news.